Technology and Patents
Astrea is the brand name of the high end photobioreactors, in reference to the goddess of Greek mythology, in which she embodies purity and integrity.
The basis of the practice tried-and-tested Astrea photobioreactors is a closed circulation system, which, using efficient thin-film technology with minimal energy consumption, provides optimal growth conditions for phototrophic microorganisms. This innovative technology is protected worldwide by the patent WO 2010/115412 A29.

Process specifications of photobioreactors

suitable for fresh, brackish and salt water
temperature range of 5 to 45°C
pH range 1 to 12
disinfectable with hydrogen peroxide and chlorine
simple, modular scale up
suitable for a variety of microalgae species e.g.: Nannochloropsis, Tetraselmis, Phaeodactylum, Haematococcus etc.
Technical characteristics of the Astrea reactors

Plant size

Astrea 30…200K 24…205,000 L production capacity

glass tube diameter

39.6-60.6 mm

Cultural volume/floor space

61…110 L*m⁻²

Glass material

Borosilicate (degree of transmission > 95%, lifespan ≥ 50 years)

Glass tube wall thickness

1.8…3.2 mm

Glass tube loops

11…355 m

Number of modules

1…32

module length

1…100 m

Glass tubes in the module

1…48

Glass tube spacing

130…152 mm (vertical in module)

Glass tube spacing

156…178 mm (horizontal in the module)

Module distance

500…1,000 mm

System vessel

Stainless steel/PE, 5…9,000 L

System pump

Stainless steel/Noridur ® 1.4593 (duplex stainless steel), 5…1,200 m³*h⁻¹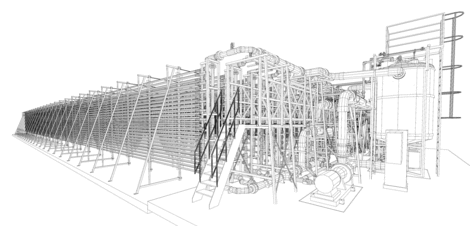 The reactors consist of three basic units:

Photosynthesis modules with horizontally arranged glass tubes,

glass tube construction for the formation of long tube loops
glass tube arrangement with a support plate system for the carrier, fixation and height adjustment of the glass tubes
stranding for stabilization of the module system
Inoculation and running of a PBR

a long-term stable and innovatively built supply unit

functional system vessels for optimization of substance exchange processes
CAD-based engineering of manifold and collector systems
algae-adapted and process-validated system pump
process-optimized peripheral interfaces
a modern product-specific process control unit

measurement and regulation of optical density, pH, temperature, level
Measurement of oxygen and fluorescence
light-dependent pump speed
Data recording, exchange, remote access and export of process data via a web server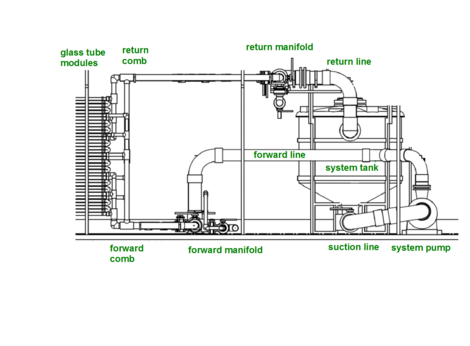 Client

Simris Alg, Hammenhög, Sweden

Floor area

about 1,900 m²

Volume

about 120 m³

Built

2016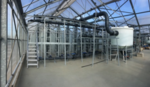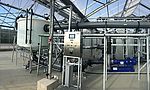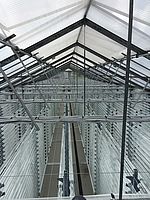 Client

Salata AG, Ritschenhausen, Germany

Base area

about 1,900 m²

Volume

about 85 m³

Built

2005/2006